Personal Capital Application is Free and Ready to Impress
This is a Sponsored post written by me on behalf of Personal Capital for SocialSpark. All opinions are 100% mine.
Mobile devices are part of most everyone's daily routine, and it means Apps are being used throughout the day. Finance influences many aspects of your life, and it is important to keep track of your finances. Many people will be happy to know there is a free App to help you manage your money. The free app is called the Personal Capital Application.
If you have been waiting on a feature-rich app that will help you track income, spending, savings and investments, your wait ends once you install the Personal Capital Application on your mobile device. You will be happy to know that it is available for the Apple iPad, iPhone, and Android. Personal Capital App allows you to add your financial accounts, and it provides a holistic view of each account. A holistic view of your accounts makes financial information more manageable. The app can also present financial information in a graphic view such as a graph.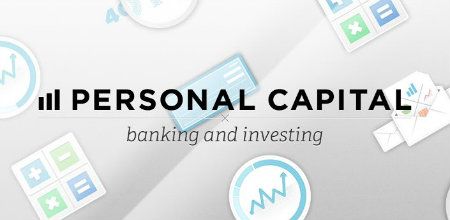 The functions of the Personal Capital Application you will find interesting. The functions will help you make better financial decisions by showing you information in manner that makes information easier to understand. Everyone who owns an investment will want to utilize the Portfolio Performance function.
Portfolio Performance allows you options in regards to how you can track your investments. You will be able to track your investment by type or share. For example, you could track the various bonds and stocks or you could track a specific company's stock. The App will also reflect asset allocation.
Asset Allocation will allow you to see the diversification of your investments. Based on the information found with this function, an investor could easily shift to assets that best suits how the market is performing. Since, you are no longer tied to the desktop, you will want to take your financial information with you; therefore, the Mobile App Opportunities are available for variety of mobile devices.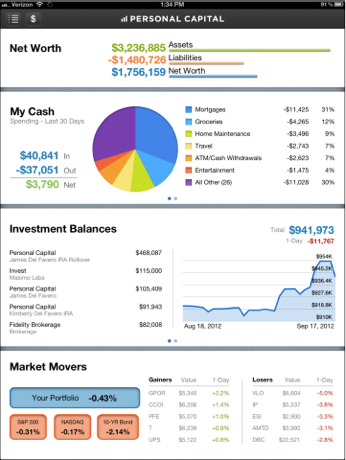 Mobile App Opportunities allows the app to be easily installed on mobile devices. You will have your financial information available while you on the go. It means you will be able to make decisions a lot faster can translate to making better investments or reducing expenses. While on the go, you will be able to use Investment Checkup function.
Investment Checkup function allows you to see if you are on track to reach your investment goals, and it will allow you see potential investment risk that could occur in your portfolio. With this information, you can try to reduce risk.
401K Free Organizer will show you the 401K fees being paid. You can then determine a course of action if you think the fees are too expensive.
Mutual Fund Fee Calculator helps you see how fees affect your investment. The more fees you pay for your investment, the more eats away the gains you will make for that mutual fund. A great mutual fund is one with great returns and inexpensive or no fees. The Calculator saves you money and helps you maximize your return from the mutual fund.
Universal Checkbook can be started by photographing one of checks. You can send money almost anywhere once you are set up.
The most useful aspect of the Personal Capital App is the portfolio performance. You are able to see how well or how poorly your investment is doing compared to the sector or industry. You will be able see the gainers or movers and this could help you to invest in a stock or bond that is on the move. I also found the Mutual Fund fee calculator will help you easily eliminate mutual funds that will cost too much to own and would greatly reduce gains because of expensive fees.
I believe the Personal Capital App will improve financial state because you are able to make quicker informed decisions. For example, if you are able to see that you spending more money on buying shoes, then you can take this information and try to limit your spending to reduce your expense.
You can maximize your money by using the various tracking the App has available. When you are able to see your investment doing well you can make a decision to sell and lock in gains You can reduce spending by using the app to see where you are spending the most money and make the appropriate decision. With the Personal Capital Cash Manager, you can see your income and your largest expenditure and other transactions made.It allows you to track your cash and can assist you in reducing your deb
It is great idea to sign up and download the Personal Capital App, because it offers many options that will make managing your finances easier. The App is compatible with Android; therefore, you should make sure to download it and see just how well Personal Capital App performs.